At Involvation, we are strong believers in experiential learning; the active process of learning from experience successfully embeds newly acquired knowledge. Over the years we have developed more than 20 serious games and simulations for use with our customers. We have utilized this approach hundreds of times, with thousands of participants, both in consultancy projects and as part of our training services. The best-known examples are The Fresh Connection and the Involvation Supply Chain Game, and we have just released a whole new version of the latter.

The classic

Managers involved in supply chain face countless strategic, tactical and/or operational choices, such as: A centralized or decentralized set-up? Close to home or further afield? Direct or indirect? Push or pull? Make to stock or make to order? If you are keen to explore the various alternatives and experience the effects without suffering the consequences, and if you would also like to share the insights with your team, the Supply Chain Management Game will be a real eye-opener for you!

Greater insight into your own supply chain
The Supply Chain Management Game is aimed at increasing your insight into the dynamics of your own supply chain. You can choose whether to place more emphasis on operational, tactical or strategic decisions. You gain answers to numerous questions, including: Which choices are available to me? What are the consequences of those choices? What is the impact of market demand and product characteristics? What would be my optimal supply chain set-up? By playing the game, you experience the pain of making the wrong choices and the success of making the right ones. Besides that, it's also a great team-building exercise!

The 3D remote version: any place, any time
For the classic Supply Chain Management Game, groups get together in real life and play the game at a table, including rolling the dice and moving the pieces around. This is a high-energy experience with a high fun factor, resulting in lots of lessons learned. Unfortunately it has not been possible to organize real-life sessions of the game in recent months due to the pandemic. We have therefore developed a new online version which is played in the AULA 3D environment. This enables the game to be played with the same amount of energy, fun and learning, without having to physically get together. The game board has been recreated in AULA in special 'rooms'. Teams can play in parallel if desired, which intensifies the competitive element. You participate as a team and the host facilitates the game, taking account of your learning objectives and responding to any questions that may arise during the game. This new online version is extremely flexible and can be played regardless of your time zone or location!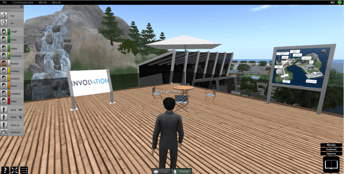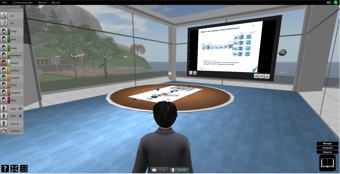 If you're interested in learning more about the possibilities, please contact Alfons Willemsen: a.willemsen@involvation.com