Many articles have been written about successful S&OP implementations. Often these articles only over content or context, hardly ever they cover both. But a successful S&OP demands an integral approach. Only in that case Sales & Operations Planning leads to practical actions and results. Quite similar to playing on chess on multiple boards.
A focussed change management approach is crucial
What makes Sales & Operations Planning successful? S&OP is all about collaboration and communication between different functions. That is exactly why the change management approach is of paramount importance. The S&OP-implementation manager must therefore principally act as a "change manager". But a change management approach requires playing chess on multiple boards.
A coherent change management approach contains four critical elements that drastically increase the likelihood of success of S&OP: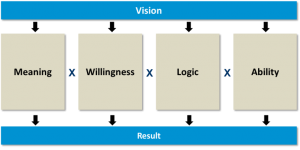 'Willingness'; Create commitment and the willingness to change
'Logic'; Make sure the S&OP process and structure makes sense
'Ability; Enable people to excel
IIf one of these four elements is missing, Sales & Operations Planning is likely to not lead to the desired results.
The four elements of an S&OP change management approach
1. 'Meaning': Define clear goals
Why do we want to introduce S&OP, what are the objectives we are trying to achieve? In many S&OP-implementations these questions remain unanswered. It is crucial that individuals understand what the objectives of S&OP are and which results can be achieved. This all begins with a clear vision and strategy of higher management, translated to S&OP. A sense of urgency, a clear vision and approach and a good translation and communication of these objectives to the roles the individuals are required to play are the starting points of every S&OP-implementation.
2. 'Willingness': Create commitment and the willingness to change
What's in it for me? What is keeping me from collaborating? To increase the commitment and willingness to act of the S&OP stakeholders these questions need to be asked and answered. It first needs to be determined who are the main stakeholders, the ambassadors and non-believers of S&OP before a healthy breeding ground can be created. The ambassadors can form the leading coalition in charge of shaping and promoting S&OP. For the non-believers it needs to be determined what is keeping them from believing and collaborating in S&OP. Individual stakes, assumptions and concerns are often the reason and need to be found out and settled. In general, all barriers blocking a successful S&OP implementation need to be removed. Examples are formal organisation structures or IT-systems that hamper the process. Finally, old behavioural patterns and norms are often hard to overcome and can hinder change. Keep this in mind in the S&OP change management approach.
3. 'Logic': Make sure the S&OP-process and structure makes sense
Besides the clear vision and the translation into objectives, the S&OP process and structure must make sense. The S&OP-process and new way of working should be logical and well thought. And of course help to achieve the company's objectives. Besides, the separate Demand, Supply and S&OP meetings in the S&OP-cycle should have clear tasks and responsibilities that form a coherent structure. Attention should be paid to include the right people at the right moments in the process. Also, the KPIs and the ICT tools should facilitate the process.
4. 'Ability': Enable people to excel
In the end it is the people that determine the success of S&OP. The people need to have the right competencies and skills. With competencies we mean that people have the capabilities to contribute to S&OP. Are they capable to think cross-functionally and do they have the skills to think and act at a tactical level? If people do not possess these competencies, then they are not the right people at the table. People's skills can be trained and developed. Especially communication skills are important at S&OP. Training, coaching and "serious gaming" are powerful tools to develop these skills. The newest development is "blended learning", in which a blend of personal development targets, training, coaching and serious gaming is tailored to individual needs.
S&OP is playing chess on four boards
Every S&OP-process is unique. The success of an S&OP-implementation depends on the history, context and character of the organisation. But the four critical elements for success are valid for every S&OP-process, as long as these are regarded integrally. The use and focus point of course differs between situations. But one thing is sure: if one of the elements Meaning, Willingness, Logic or Ability is missing, S&OP will not bring the expected and desired benefits. Playing chess on four boards is hence a requirement for success.