Our client, Cosun Beet Company (formerly known as Suiker Unie), is one of the most efficient sugar beet processing companies in Europe. They develop, produce and sell sugar and sugar specialities for the bulk industry and Consumer Products industry. All components of the sugar beet are used, nothing is wasted.
Redefining the decision making process to manage variation
One of their factories, a sugar specialty production site, asked us to redefine their Supply Chain decision-making processes. They experienced large fluctuations throughout their Supply chain, from purchasing raw materials and packaging, to production, to logistics and transportation to the final customers around Europe. Planning this process was facing many challenges by dynamic markets, suppliers and an unreliable production planning process.
During this project, we focused initially on the short-term decisions with respect to their production plans for the next 6 weeks. This is the link between the Master Product Schedule (MPS) on the midterm and detailed scheduling on the very short term.
High variety of SKUs and productionlines are bottleneck for production
The bottleneck in the production of packaged sugar and sugar specialties are a variety of SKUs and production lines. There is a given number of operators available (varying weekly), which allows only a subset of all production lines to be operated on a week-to-week basis. Moreover, there is a number of factors that determine the decision to be made every week including:
Seasonal

d

emand patterns of sugar specialties

(more sugar consumption during holiday season)

The maintenance schedule of the production lines

Machine output per product group and machine change-over times between

product groups

Planning of packaging materials and additives

Skill matrix of the operators

Hiring of temporary production line operators

Overtime by operators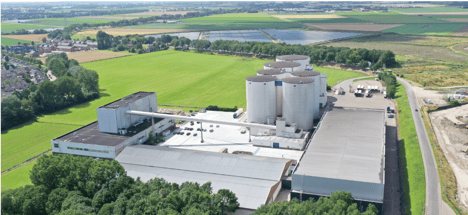 An production planning review with a six-week horizon is held, where we zoom in to the production plan for the next two weeks. During the design and implementation of their review, particular attention was spent on the preparation of the actual meeting. The actual meeting therefore was reduced from 1-1.5 hours, to only 30 minutes.
9-Box analysis implemented to set the right stock policies
After optimizing the short term planning cycle, we focused on the forecast accuracy and bias. By initiating a 9 box analysis, we could clearly indicate products that should be changed to Make-to-Stock or Make-to-Order. Additionally, we changed the safety stock policy, by decreasing the safety stock of low volume products and negotiating clear, standard lead times with our customers. Furthermore, we standardized a bi-weekly meeting where sales representatives and production planning discussed demand fluctuations and the best way to deal with them by scenario planning.
As a next step, we dove into the material purchasing process. By means of working with standardized volume contracts and changing the safety stock policy, we optimized availability and costs of necessary packaging materials. Introducing cycle counting and automatic backflush functionality, helped us improve the reliability of the inventory stock.
Through a 1.5 year journey, we optimized the control of various Supply chain functions and the way departments work together to ensure the most efficient and effective way to produce specialty sugars.