'Change is the law of life'
"Change is the law of life..." said John F. Kennedy during one of his speeches in 1963. This famous quote is more relevant for organisations today than ever before. The world around them is evolving increasingly quickly and companies are continuously involved in change – or at least they should be. But that's not easy – there's no one-size-fits-all approach to changing successfully. What is the key to success in change management?
4 critical change elements
In organisations, changing successfully requires a smart and agile response to four critical elements of change:
Meaning – Strategy & goal
Logic – Processes & structure
Willingness – Behaviour & motivation
Ability – Competencies & skills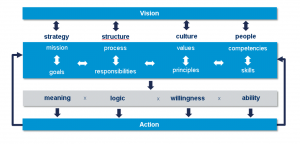 The 'hard' side of change is the relatively easy bit; many organisations are used to working with strategies, processes and structure. The 'softer' side of change is more difficult to tackle – behaviour, motivation and competencies are related to the human aspect of change and are harder to address.
The solution is to view the four elements of change as a whole, to decide which aspects require the most attention and to take action accordingly: an integral approach to smart agility on four fronts, in other words. That's how to design an effective change management process. The details vary from one organisation to another, depending on the specific circumstances
.
A Change Compass gives guidance
So how can you determine the order in which to tackle these elements, and which priorities should you set? Over the years, I have worked on numerous supply chain projects involving a substantial degree of change. At Involvation, we have developed our 'Change Compass' to offer extra support in such projects. It analyses the four elements in more depth, providing a structured framework for deciding which elements need the most attention. This forms the basis for a successful change process.
An integral approach with equal attention for all four elements of change is the only way to truly achieve the desired change!
To learn more about the Change Compass and effective change, contact j.scheepers@involvation.com